One-off opportunity for Year 12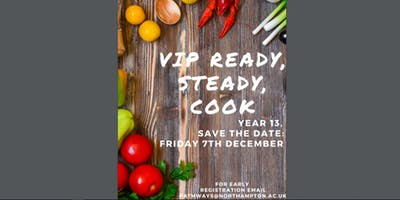 The University of Northampton Pathways team are hosting Ready, Steady, Cook event on Tuesday 18th December.
This event will allow students to test their cooking skills in a university cooking challenge, as well as hear from a senior lecturer in the field of nutrition and health. Students will also be a budgeting workshop for students to learning more about finances at University.
Back to Activities page
VIP Ready, Steady, Cook
Date & time
Tuesday, 18/12/2018
9:30 am - 2:30 pm
Partners
University of Northampton
Pathways
Location
The University of Northampton
University Drive
Northampton
NN1 5PH