Saturday Art and Design Club 19/20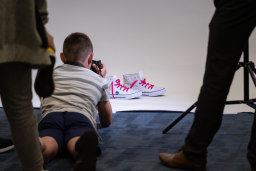 Pathways will be running a new Saturday Art and Design Club for students to help develop their artistic skills and techniques and build upon their portfolio which will help with FE and HE applications.
This exciting opportunity is open to NCOP eligible students and is completely free of charge. Students will be expected to attend each Saturday of the 10 week programme from 10am-1pm. As part of the schedule students will also have the chance to take part in an inspirational trip to London, all expenses covered. There are a limited amount of spaces available (30).
Cohort 1: 12th October – 14th December, Location: Loughborough University
Cohort 2: 11th January – 14th March, Location: De Montfort University
Cohort 3: 25th April – 27th June, Location: ONLINE
Each student who wishes to take part in the activities will need to complete a Data Consent Form for East Midlands Widening Participation Research and Evaluation Partnership (EMWPREP). This is a monitoring database that allows the universities to report NCOP activity back to the Office for Students (OfS). Pathways will provide you with copies of this form and provide guidance if required. Further information about EMWPREP can be found here (www.emwprep.ac.uk)
Our activities are open to all pupils in the year group individual activities are aimed at, but, if an event is oversubscribed, priority is given to those who fulfil one or more of the following:
• Live in an area identified as a Pathways or NCOP Ward (determined by home postcode)
• Be the first in their family to consider attending university
• Be in receipt of free school meals
• Be in or have spent time in local authority care
• Are a young carer
• Have a disability including specific learning difficulties such as dyslexia, dyspraxia or ADHD
Back to Activities page
Saturday Art and Design Club
Date & time
Saturday, 12/10/2019 - Saturday, 14/03/2020
(All Day)
Partners
University of Leicester
De Montfort University
Loughborough University
Pathways
Location
TBC