Creative and Digital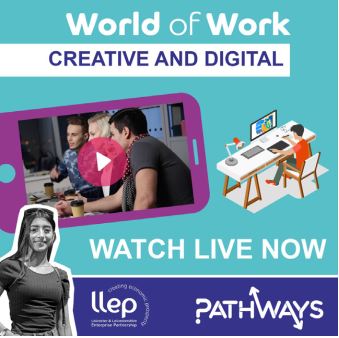 This 'Pathways to the World of Work' in the Creative & Digital sector resource is a video exploring some of the qualification routes that professionals working locally in the sector have undertaken to get into that job or onto that career path. Including insights from employers, employees and current students, this video can be used to explore the Pathways from GCSE into the world of work.
This video compliments the LLEP Work of Work in the Creative and Digital sector video which can be found here – Subtitled version available here
Suitable for students of any year group, we recommend students also watch our 'Qualifications Explained video' which  explains the differences between FE and HE, the qualification levels (1 – 8) as well as post 16 choices (including explanations of B-Tecs, T-levels) and post 18 choices.
Ready to 'plug and play' in any setting- the worksheet provides an opportunity for students to reflect on what they are seeing as part of a delivered session. Teaching resources available here
For more information regarding the LLEP World of Work videos and how to use the resources – please visit https://llep.org.uk/wow/
Contact the Pathways team on reach@leicester.ac.uk if you would like us to come and deliver sessions directly to your students utilising the LLEP WOW Videos and the complimentary, Pathways to World of Work resources just let us know!
Back to Activities page
Pathways to World of Work – Creative and Digital
Date & time
Monday, 21/06/2021 - Tuesday, 31/08/2021
(All Day)
Partners
University of Leicester
De Montfort University
Loughborough University
Pathways
Location
Online