Future Me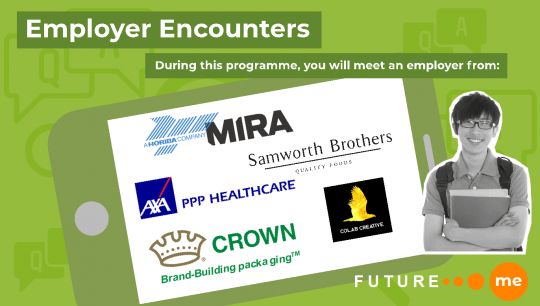 Think about your 'Future Me' – What do they care about? What do they love doing? What does their life style look like? How did they get there? We can't answer these questions for you but we can help you make choices about the future so your Future Me is the best you.
We can't welcome you into our company or show you our campus but that doesn't mean you have to miss out on exploring your options and discovering your potential!
This is a 7-week programme – after an introduction, we will explore 5 Key Skills for life: Communication, Team Work, Self-Belief, Self-Management, Problem Solving by talking to Employers, Professionals and Current Uni Students to understand about their sector, their journey and what they do.
You will be able to talk to employers from 5 different Key Sectors:
– Cyber/AI
– Advanced Manufacturing and Engineering
– Professional Financial Services
– Creative Industries
– Logistics and Distribution
And you will speak to students who are currently training to work in these fields- find out why!
Each week you will be set a challenge which will give you the opportunity to put your skills into practise and build up your personal profile. If you are willing to share what you create with is us there is a weekly prize up for grabs- Vouchers for you and IT equipment/resources for your school.
After our introduction on the 1st June, we will meet twice a week on Zoom @11am Tuesdays and Fridays for 50 minutes. Our final session will be on the 6th July.
This is completely free – you will need to register to take part. Each week we will email you everything you need to get the most out of the sessions. We will be delivering the sessions via Zoom and so you will need a password to access the sessions. We will share all of the details with you.
Once you have registered, we have your details and you're in! You will get sent the participation link and resources by 09:30am on the day the next session is scheduled (Tues & Fri)- REMEMBER: Check your junk mail
Resources:
Future Me – Self Management Session 1 Worksheet
Future Me – Self Management Session 2 Worksheet
Future Me- Team Work Session 1 Worksheet
Future Me- Team Work Session 2 Worksheet
Employer Challenge Week 2 Team Work
Future Me – Problem Solving Session 1 Worksheet
Future Me Problem Solving Session 2 Worksheet
Future Me Self Belief Session 1 Worksheet
Future Me Self Belief Session 2 Worksheet
Back to Activities page
Future Me
Date & time
Monday, 01/06/2020 - Monday, 06/07/2020
(All Day)
Partners
University of Leicester
Pathways
Complete Careers
LLEP
Location
Online