Virtual Saturday Art and Design Club - 25th April - 27th June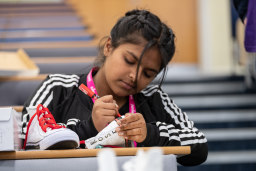 Pathways are running a new online Saturday Art and Design club from 25th April – 27th June and we would like to extend an invite to you!
Our new online Saturday Art and Design club is an exciting opportunity to pursue your interests in art and develop your skills and portfolio further
Each of the weekly online sessions will be led by our two artists; Matt and Pete and you will create your very own fashion label. Over ten Saturday morning classes, you will use a range of different art techniques to develop your brand. We will send out all the materials and resources you need to your house ahead of the sessions. You'll be encouraged to share your progress through photos, videos and online interactions. We will then pull all your resources together for an online exhibition you can share with friends, parents and teachers.
As part of the programme we will help you explore creative careers, future education routes and give you lot's of resource to help you pursue your interests.
This opportunity is completely funded by Pathways – this includes the cost of all classes and materials used. There are a limited amount of spaces available (30)
If you would like to take part, please complete the online booking form by Wednesday 1 April 2020.
For more information please email reach@le.ac.uk
Back to Activities page
Virtual Saturday Art and Design Club
Date & time
Saturday, 25/04/2020 - Saturday, 27/06/2020
(All Day)
Partners
University of Leicester
De Montfort University
Loughborough University
Pathways
Location
Online
Book Now