One-off opportunity for Year 12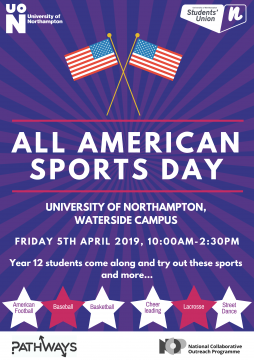 The All American Sports Day is an opportunity for Year 12 NCOP student's to visit the University of Northampton and meet current undergraduates (meeting Gatsby Benchmark 7). The aim of the this event is to raise the aspirations of those who attend as well as giving individuals the opportunity to try a new sport. The day will be delivered in partnership with Students' Union. Members of our sports clubs will be on hand to deliver a variety of different sports across the day.
The event will take place on Friday 5th April 2019. We ask that all students arrive for 9:45am in preparation for a 10am start with an estimated finish time of 2:30pm.
Sports on offer: American football, Baseball/rounders', Lacrosse, Basketball, Cheerleading and Street dance/ hip-hop.
If you have any further questions please contact your SPOC.
Back to Activities page
All American Sports Day
Date & time
Friday, 05/04/2019
8:45 am - 2:30 pm
Partners
University of Northampton
Pathways
Location
The University of Northampton
University Drive
Northampton
NN1 5PH